We are where you want to be.
®
Exquisite NEW CUSTOM RESIDENCES
Gorgeous lake views, 3 miles of private white-sand beach, two marinas and a picturesque golf course… Miles of hedges, manicured landscaping, flowers and unique trees to see as you jog, walk or bike… Beautiful sunrises and sunsets… Architectural choices include modern, coastal contemporary, transitional, West Indies and Mediterranean.… Many homes with boat docks… One of the best lifestyles in America… Miromar Lakes Beach & Golf Club continues to define luxury real estate with the introduction of new neighborhoods and homes, an array of interior and exterior design styles and many custom options from one of our approved builders. Miromar Lakes has Grand Estate Homes, Estate Homes, Beach Club Collection homes and Luxury Villas.
signature
Championship Golf
with members-only exclusivity
Blue Water Beach Grill
This is the perfect beachfront oasis for sharing memorable moments with family and friends. At the Blue Water Beach Grill, Miromar Lakes residents enjoy a private beach club atmosphere where it is easy to make new friends and be part of a fabulous lifestyle. Overlooking Lake Como, the Blue Water Beach Grill is a magnificently designed open-air pavilion with boat docks offering contemporary fare and tropical drinks served in a casual, resort atmosphere. The Blue Water Beach Grill is an ideal spot with panoramic lake and beach views for lunch, sunset dinners, and evening cocktails with Happy Hour daily.
Concierge Services
Owning a home at Miromar Lakes is like living at a world-class resort. Professional Concierge Services treat you like a special guest every day. Allow our professional service team to handle your everyday household needs so you can fully enjoy a round of golf, a massage at the Spa or a refreshing swim in the pool. Enjoy your time away with the confidence that your home is in capable hands. Allow our Concierge team to give you more time to enjoy your Miromar Lakes lifestyle.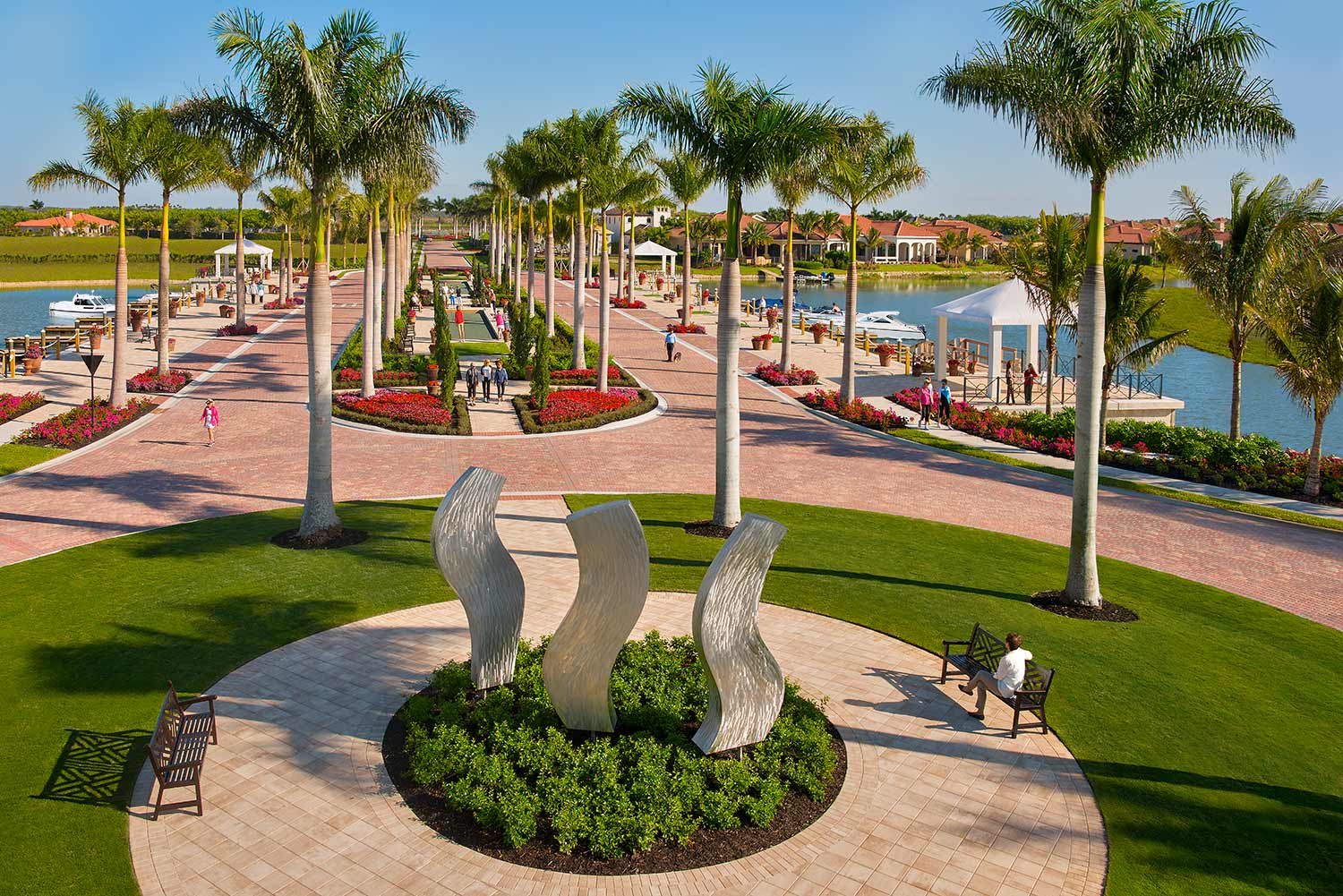 Marina on the Peninsula
This is a unique waterfront destination for residents to enjoy boating, fitness, relaxation, meditation and social events.  A picturesque thoroughfare includes a parterre garden, regulation bocce courts, fitness stations, boat slips, and pavilions for entertaining.  A signature sculpture entitled "Dare to be" is a focal point of the marina.  Created by nationally renowned artist Barton Rubenstein this kinetic work of art is set in motion by the wind.  
Marine Services
Live within your own luxurious waterfront sanctuary with your own boat docked outside your home. Enjoy endless opportunities for boat rentals, guided fishing excursions and sunset cruises on Lake Como. This is a boater's paradise, and every day is a new adventure, whether you enjoy powerboats, sailboats, pontoon cruises, sunset cruises, fishing adventures, kayaks, or paddleboats. You can also take advantage of boat concierge services, boat fueling and a gated storage facility.
THE FITNESS CENTER
Visit our state-of-the-art Fitness Center and learn about our body fitness program which includes personal training sessions, group classes, private classes, and Pilates training and Power Plate training. The Fitness Center also features top-of-the-line Cybex weight training machines, Peloton machines, cardiovascular equipment with individual TV monitors, and an Aerobics Room.
WELLNESS SPA
The Spa combines the best of traditional and innovative therapies that will stimulate your mind, body, and spirit. At the Spa, wrap yourself in luxury in a Miromar Spa robe and surrender to seemingly endless pampering. Indulge with a comprehensive menu of massage and spa therapies in one of our soothing treatment rooms or outdoors, in a private Zen Garden.  Our European-Style Spa offers a full range of massage therapies, facials, body wraps and salt-glow scrubs, plus a full-service beauty salon.
The Racquet Club
The Racquet Club at Miromar Lakes encompasses lighted Har-Tru Tennis Courts including a center court in an idyllic waterside setting. We have new courts, and players have access to some of the best instructors and facilities in Florida. We have new coaches, and our players have access to some of the best facilities and teaching in Florida. There are tennis clinics for various talent levels as well as round-robin play. Hone your tennis skills at the regular clinics for every level of player from beginner to advanced.  These programs lead to great competition and lifelong friendships.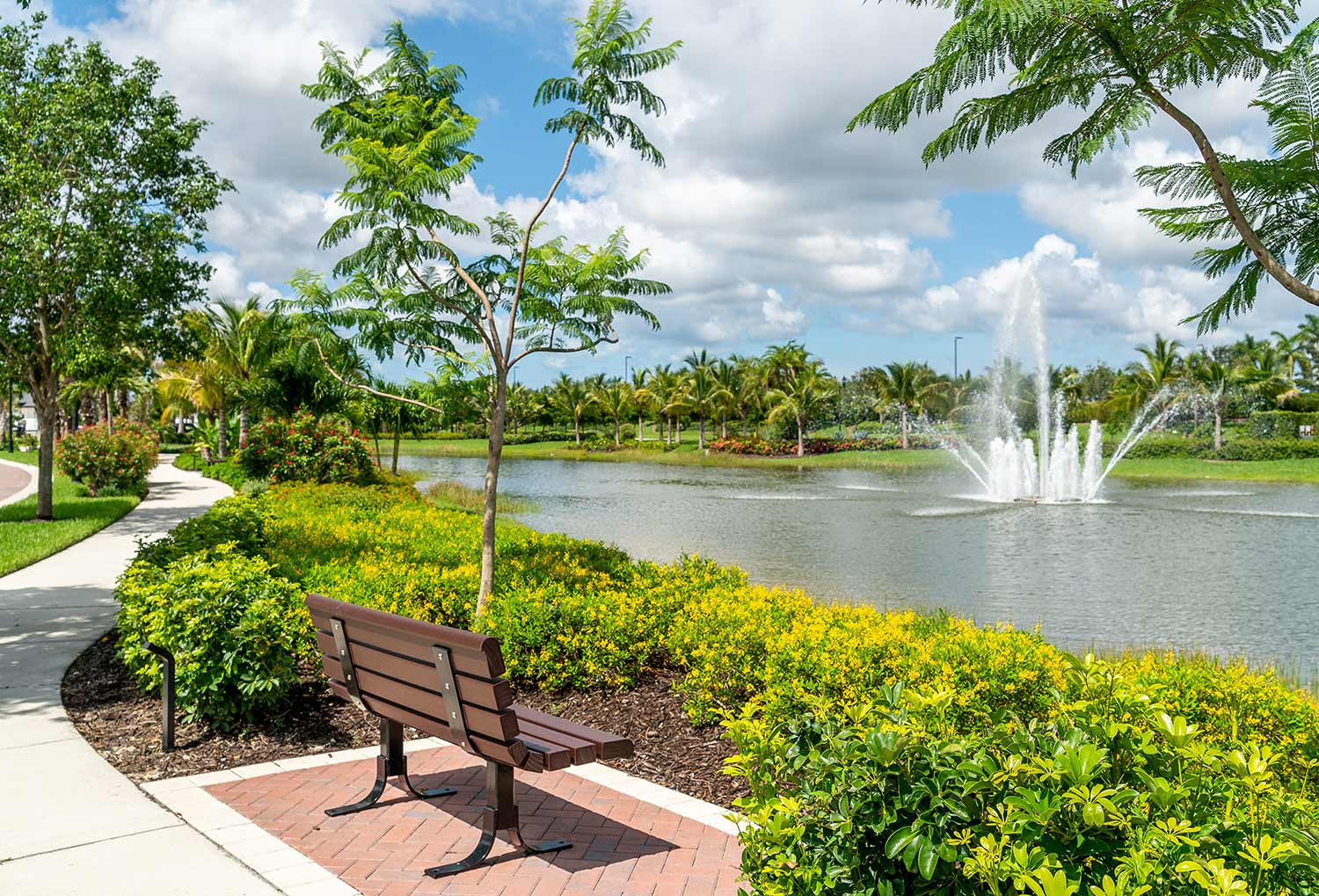 Botanical Park
Enjoy the beauty of nature everywhere you look as you stroll along the new lake-encircling Botanical Park. You are surrounded by 3,000 different plants, many of which are labeled. View flora and fauna including exotic palms, cypresses, tropical plants and flowers including hibiscus lilies, irises, oleander, jasmine, sunflowers, bougainvillea, and birds of paradise. Or simply sit on a bench and enjoy the beautiful lake views.